High Quality Aluminum Sand Casting Equipment
LeClaire Manufacturing uses advanced sand casting equipment to cast and machine aluminum sand castings for low- and high-volume applications. Aluminum sand casting continues to grow in usage and accessibility, and using a high-quality sand casting apparatus is critical.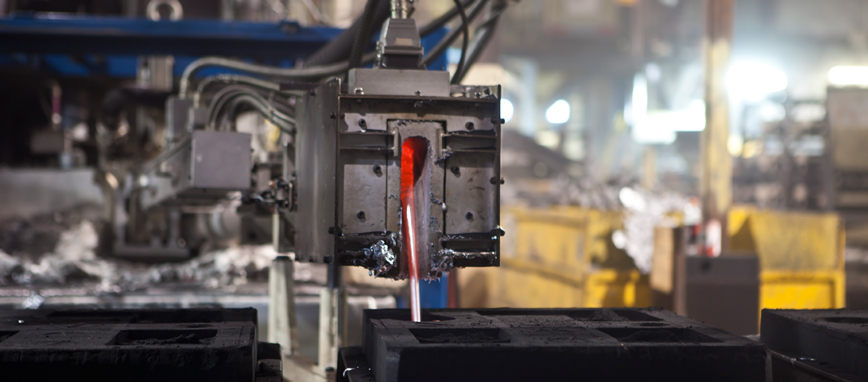 Aluminum sand casting is achieved by pouring molten aluminum into a sand mold. At LeClaire Manufacturing, we facilitate the creation of these molds with a powerful, automated sand casting machine that ensures the sand is blown and packed into the mold in a uniform manner. This results in a high-quality mold and a high-quality finished product.
Our sand molding machines also boast advanced technology to ensure that the process operates consistently and successfully. Automated parameter monitoring, robotic pouring and experienced operators lead to tightly controlled, robustly monitored sand castings that yield parts per million (PPMs) and on-time deliveries that are the envy of our competitors.
Why Are Superior Sand Molding Machines Important?
The unique qualities of the aluminum sand casting process mean that using the right equipment to implement it is critical. The process starts with mold creation. We begin by ensuring that the pattern is not worn or damaged because it is used to form the basis of the sand mold. Our automated equipment then quickly creates a high-quality sand mold, with shorter lead times resulting in higher production efficiency.
Poorly constructed sand molds can lead to part rejections and repeat work, adding to your overhead and wasting production time. Our extensive work in the industry has enabled us to ensure that we create only the highest-quality molds, designed for successful and efficient production. In addition, we are experienced in producing sand casting cores, allowing for more complex pieces.
The sand casting machine must be finely calibrated and equipped to provide you with top-quality results. We believe that our customers' successes are our successes, and we use top-of-the-line machinery to make sure that you get the results you want. Poorly calibrated or malfunctioning sand casting machines add time and wasted effort to the production process. We pride ourselves on delivering at or ahead of schedule.
Why Work With LeClaire Manufacturing?
Aluminum sand casting has evolved into a premier casting process for a range of applications. LeClaire Manufacturing casts and machines aluminum sand castings using automated processes and the latest technology in computer quality control, allowing us to achieve predictable, repeatable results. That's what makes us a leader in the aluminum sand casting industry.
With extensive experience in the field, we know precisely how to create the molds, cores and castings that you need to bring success to your business. For more information, request a quote today.