Sand Casting Services
LeClaire Manufacturing in Bettendorf, Iowa casts and machines simple to complex aluminum sand castings and permanent mold castings. With a focus on automation of our manufacturing processes and controls, we lead the foundry and machining industry in quality, consistency and on-time delivery of aluminum sand casting and machining.
Why Choose LeClaire as Your Aluminum Sand Casting Foundry?
We've been serving the industry since 1966.
We emphasize quality craftsmanship.
We're family owned and operated.
We are ISO 9001:2015 certified.
We have a just under 300,000 sqft of production space in the heart of the Midwest.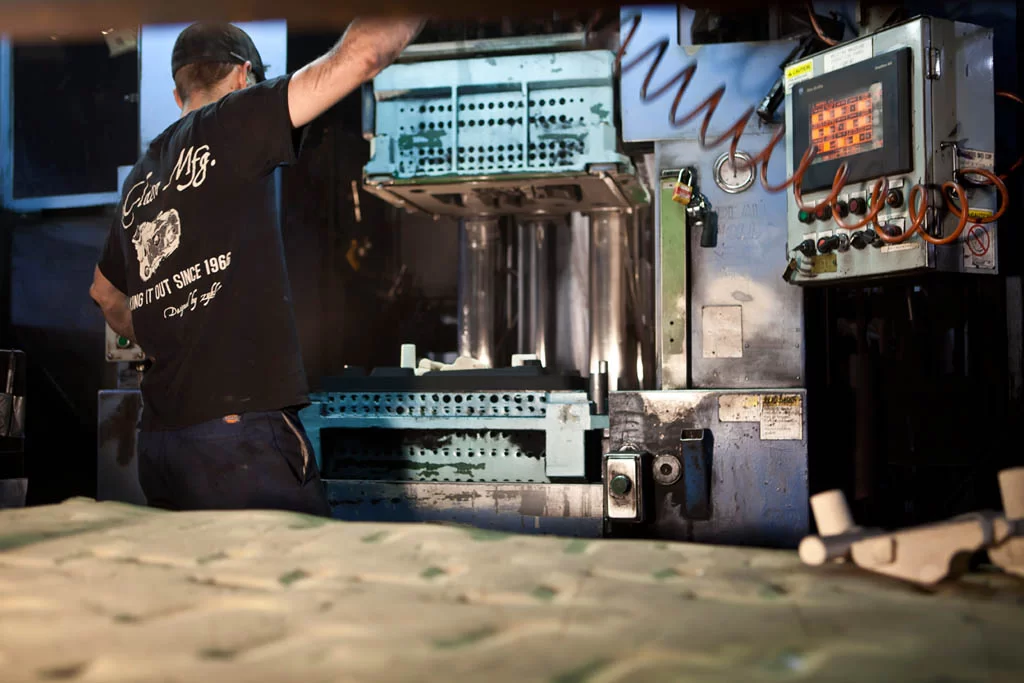 Engineering Expertise
Our in-house automation team consistently sets industry standards by implementing controls, deploying robots, and advancing technological innovation in aluminum sand casting. This commitment to engineering excellence is leveraged throughout our foundry and machine shop to provide you with operational scale rare among aluminum foundries.
A Steady, Reliable Supplier – a Dependable Partner in Aluminum Casting
LeClaire's strategy of diversifying our customer base and pursuing controlled strategic growth provides us with extraordinary financial stability. At a time when other aluminum foundries are looking for answers, LeClaire has a proven track record of sustainability to meet your sand casting needs now and in the future.
We Reinvest in Our Business, and You Benefit
Year after year, we invest our profits back into our business. This reinvestment means you get access to modern molding equipment, real-time x-ray technology, advanced robotics, CNCs, CMMs, and more. We've expanded our foundry to increase capacity, and we've improved our processes to deliver consistent, porosity-free quality in aluminum castings and 98% on-time delivery.
Aluminum Sand Casting Applications
Aluminum sand castings has applications in a wide range of industries, including aerospace and defense; agriculture; automotive; energy; marine; medical; mining; and fluid management. Below are some of the applications of our casting services across leading industries.
Aluminum Sand Casting for Consumer Goods
From appliance parts to aluminum cookware to lawncare equipment, LeClaire's sand casting capabilities are a perfect fit for the consumer home goods industry. Leading manufacturers of merchandise found in marine engines, motorcycles, snow mobile, and grill bodies turn to LeClaire's for aluminum casting services.
Aluminum Sand Casting for Agriculture
Agriculture applications for our casting capabilities include measuring and control devices, valves, and field equipment parts. Our sand casting services are up to the challenge of manufacturing parts for pickers and spreaders, ag waste removal equipment, tractor parts, and other farm equipment.
Sand Casting for Military/Defense Applications
We are proud to serve customers in the defense industry. From helicopter parts to flight control equipment, from missile launch technology to Special Ops field equipment, the military applications of our casting capabilities are wide-ranging.
Benefits of Aluminum Sand Casting
Aluminum is a light weight and strong material
Readily available raw material
Provides a smooth finish
It's a cost-effective casting process
The simplest and most versatile aluminum casting method
High degree of tooling flexibility to accommodate design changes
Ideal for manufacturing scale-up
Ideal for low production applications