Durable Permanent Mold Aluminum Casting Equipment
At LeClaire Manufacturing, we utilize the latest technology. Our automated-tilt permanent mold machines are equipped with tilt-time regulators and strategically located and computer-monitored thermo-couplers to ensure that optimal metal and die temperatures are reached. Our permanent mold controls (including a programmable logic controller, or PLC) ensure that our process is predictable and repeatable.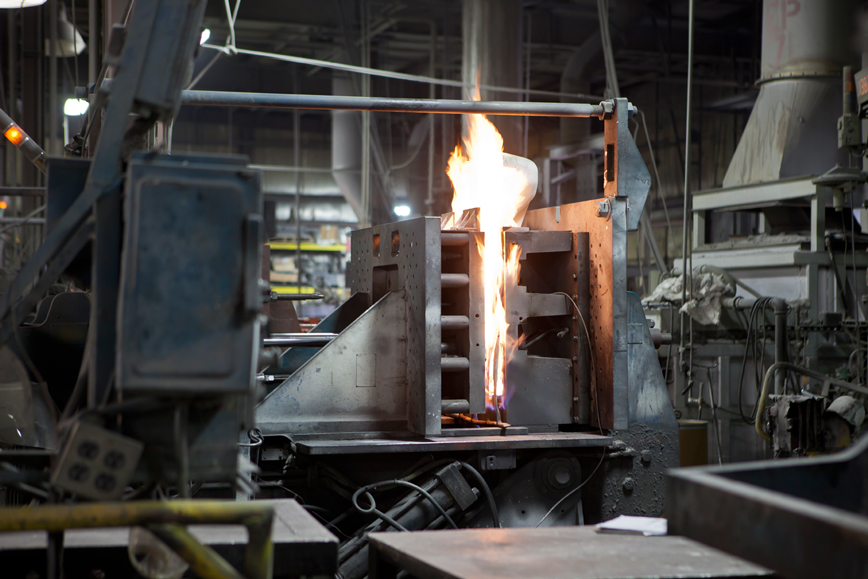 Hydraulic tilting and PLC-controlled permanent mold machines assure process control, every time.  Robotic mold coatings, coupled with automated molding cells, allow for repeatability in a highly parameter-dependent casting process. With mold size capabilities in excess of 70 inches and 180-degree tilt capability, large or small, LeClaire Manufacturing's experienced team will make your casting design a reality.
About Permanent Mold Castings
Permanent mold aluminum casting provides higher aluminum casting properties than sand castings, and higher mechanical properties when compared to other aluminum casting methods. Plus, permanent mold castings offer a smoother surface finish on the aluminum casting due to the smooth metal finish of the mold itself.
Often referred to as tilt-pour aluminum casting, or gravity tilt-pour aluminum casting, permanent mold castings can provide cost benefits as well because a slide from the mold may eliminate a core in the aluminum casting. LeClaire offers expert guidance on the most cost-effective method for producing your aluminum casting.