Durable Permanent Mold Aluminum Casting Equipment
At LeClaire Manufacturing, we utilize the latest technology in permanent mold casting equipment to bring your designs from concept to fully realized product. Our automated-tilt permanent mold machines are equipped with tilt-time regulators and computer-monitored thermo-couplers to ensure that optimal metal and die temperatures are reached. Our permanent mold controls, including a programmable logic controller (PLC), ensure that our mold casting process is predictable and repeatable, ensuring exceptional accuracy and quality in every piece.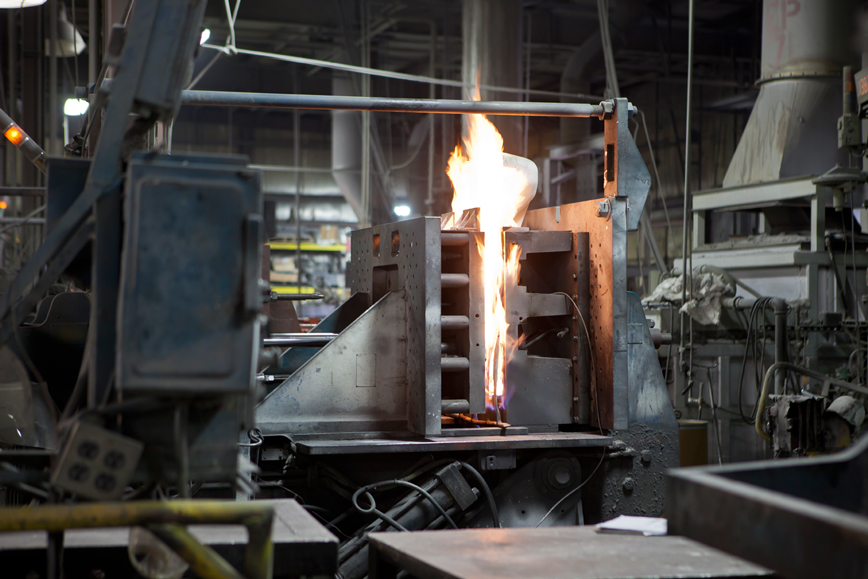 Hydraulic tilting and PLC-controlled permanent mold machines assure process control, every time. Robotic pouring, coupled with automated finishing processes, allow for repeatability in a highly parameter-dependent casting process. With a wide range of mold size capabilities and 180-degree tilt capability, large or small, LeClaire Manufacturing's experienced team of engineers and permanent mold casting machine operators will make your casting design a reality.
About Permanent Mold Castings
Permanent mold aluminum casting provides higher aluminum casting properties than sand castings and higher mechanical properties when compared to other aluminum casting methods. Plus, permanent mold castings offer a smoother surface finish on the aluminum casting due to the smooth metal finish of the mold itself.
Often referred to as tilt-pour aluminum casting or gravity tilt-pour aluminum casting, permanent mold castings also can provide cost benefits because a slide from the mold may eliminate a core in the aluminum casting. LeClaire Manufacturing offers expert guidance on the most cost-effective method for producing your aluminum casting, and our mold casting machine capabilities enable us to offer you a number of options in determining the best process.
PERMANENT MOLD CASTING VS. OTHER CASTING PROCESSES
It can be difficult to understand the differences between different casting processes — such as permanent mold casting, die casting and sand casting — and to make an informed decision about which process will best suit the needs of your product. At LeClaire Manufacturing, we offer long experience in helping our customers make the right choice. Some options to consider:
Permanent mold casting — This is a gravity-based casting process with a mold that can be reused numerous times. As such, it is ideal for medium-to-long production runs, and the nature of the mold material, whether steel or cast iron, means that each part has a smooth surface finish that often requires minimal finishing. Permanent molds can have multiple cavities and are suitable only for non-ferrous materials.
Die casting — Molds used in this process also can be reused many times. In aluminum casting machines, however, the part material is fed into the mold under pressure, rather than poured and filled via gravity and tilting. Aluminum casting equipment offers a smooth surface finish that often won't require finishing and can only be used with non-ferrous materials. Aluminum molds offer exceptional service life and are suitable for long production runs.
Sand casting — This process uses a "destructive" mold made out of a silica mixture into which the molten material is poured. Once the material has cooled, the mold is broken from around the piece and the sand mixture can be recycled for the next cycle. Sand casting offers a favorable price point and can support small to large production runs.
Working With LeClaire Manufacturing
With more than 50 years of expertise in the field, our record of permanent mold casting and sand casting success speaks for itself. The secret to our longevity and exceptional customer satisfaction lies in our commitment to quality control and on-time delivery, no matter what the circumstances. Our engineers and production personnel work tirelessly to ensure that our customers receive the parts they need at the quality they expect and within the timeline we've agreed on — every time.